Flashback.
Paris, spring 2005.
I get ready to leave for my training of model making when the telephone rings.
A friend comedian, star of a French television series, on the phone.
At first, he evokes me my failure and my stubbornness when I had the nerve to leave several messages to a famous artistic agent. Indeed, this year, one of his comediennes' stars chaired the César Awards Ceremony and I had decided to create her dress.
He has never answered.
Not really disappointed, because I imagined well the outcome, I was proud to have dared to express my desire!
And I had been right because the sky had heard me.
I shall dress nobody to the César but to the Cannes film festival!
It is what my friend proposed me … A charming comedienne selected as young talent by the ADAMI left walking on the stairs …
And unfortunately, none of the dresses which she tried seduced her.
Wonderful opportunity! I had exactly drawn a luxurious red silk and velvet cocktail dress about which I dreamed to realize …
The appointment is booked. My drawing is a success and I had to work hard to be ready on time.
The D Day the actress leaves with My creation in her luggage !
I was already dreaming about photocall, pictures and my name in the press!
But it was without taking into account the competitor of a famous fashion designer which my ambassadress had hidden in her luggage!
My marvel won't walk on the stairs but will have to content itself with a famous cannoise evening of festival …
I had nevertheless planned everything!
Taking advantage of the presence of a friend photographer of Canal+, I spend a few days in the hotel of the team.
And even there, missed appointment! The director who has to hand me my accreditation will arrive the day of my departure … Because I had not said my last word! Cannes closed me its doors but an important meeting waited for me in Paris … A beautiful adventure which will take me in Thailand to create my own line of feminine clothes …
Another long story full of new developments.
Further to the next episode!
Memory :-)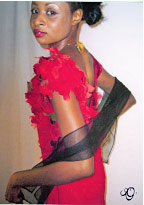 Robe Lechy, Cannes 2005