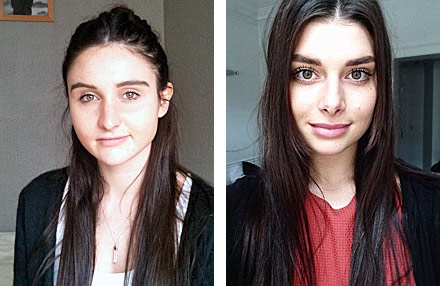 Romane Bourdon and Solenn Catéro, Purdey Model Management
With her bi ghazel brown eyes and her asserted look, Romane represents the active woman of today!
Solenn, she is a crush! Her distinguished face is of a timeless beauty… She transports you to the Italian actresses of Dolce Vita period.
Two different temperaments which get along famously!
So we decided they will be the pretty faces of « The Essentials ».
A touch of rock and romantism to evokeall the women.
Multidisciplinary, determined, for Romane her job as a model is a discovery of the fashion world : catwalk shows, photo-shoots, photographers, casting agents and all who organizes this "little world".
To Solenn, this is all totally new! She is not building castles on the air, she is just seizes the opportunities while studying the foreign languages.
Romane wants to create the event ! The communication and the interpersonal skills are her passions! Besides, she is the one who answers on the facebook page of Purdey Model Management!
One business manager hides behind her baby face of young model.
She is the one who introduces me to her friend Solenn. A beautiful girl of 1m76 and who wears a real 38. We like! Gone are the unreal sizes 32. To shine is needed a healthy spirit in a healthy body!
In spite of her shyness, she leaves no one indifferent. Her eyes speak for her with a big sweetness.
Both of her take advantages of their physical appearance to pose for photos but they don't have for ambition to sacrifice everything for a top model's dream.
In brief, two girls who are realistic. For Romane, her parents support her while avoiding her falling in beginners' traps. She uses feeling to choose her professional partners and has fun with her passion for clothes and catwalk shows.
She is a dynamic young woman and move ahead with certainty!
If you ask her what she likes to wear she says she can be a femme fatale as a tomboy. But always with originality.
Her few words about the collection Elodie Oberlé : « Casual, smart, elegant and beautiful fabrics".
And Jefferson, the manager, wants to say more: "This collection represents the smart lady, self-confident, who takes responsibility and who brokes with tradition".
Yes ! It's exactly what we wanted !
Thank you very much for this nice meeting which plans a collaboration joyful and full of ideas.